An event that promises to enhance the field of orthodontics is coming soon! The 2023 IOF International Orthodontic Symposium is scheduled to take place from June 16 to 18 in vibrant Hong Kong, China. With a focus on the theme of 'Advances in Clinical Orthodontics: Steering into the Future,' the symposium will bring together 33 world-renowned experts from North America, Europe, South America, through to Asia. They will deliver captivating lectures and panel discussions in five sessions, sharing their insights, experiences, and cutting-edge technology. This is a unique opportunity to learn from the most innovative early adopters in the field of orthodontics and the registration is open now.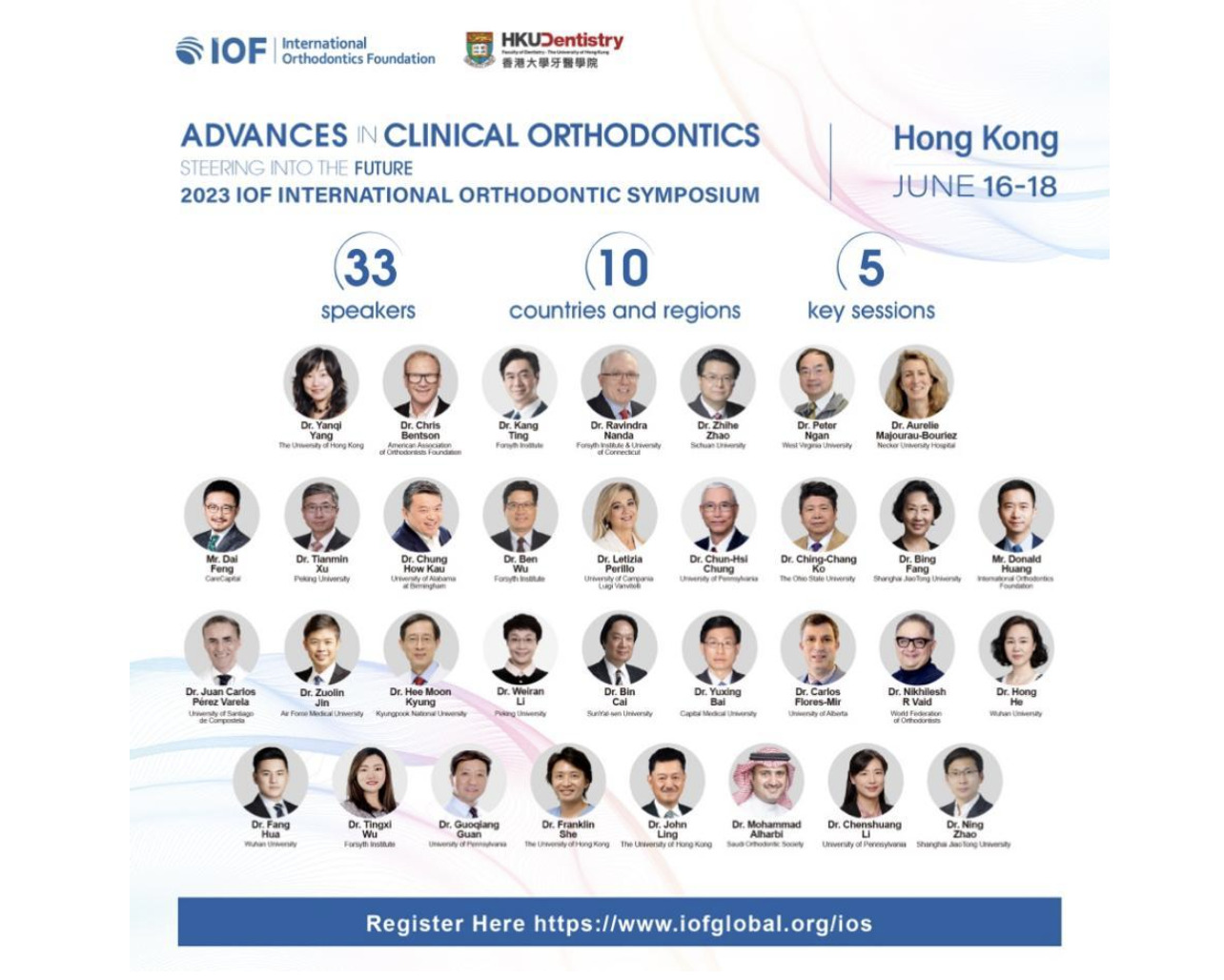 The International Orthodontic Foundation (IOF) and The University of Hong Kong Faculty of Dentistry (HKU FoD) will be co-organizing the symposium. This partnership brings together the best minds in orthodontics, as they work together to create an event that inspires and educates. The collaboration is aimed at achieving excellence, and attendees can expect to gain insights and knowledge from this exceptional gathering of experts.
Highlights of this upcoming symposium:
1.The latest techniques and technologies that are set to revolutionize the way clinical orthodontics is approached, from some of the most forward-thinking experts in the world.
2.The symposium will cover a wide range of topics, from translational research to the development and application of new appliances and technologies, as modern orthodontic practices evolve to meet the growing needs of patients. It will explore key aspects of the field that are essential for success.
3.The "Rising Stars Forum" is a platform for young and upcoming orthodontic professionals to showcase their research findings and potential impact on the field. The symposium will highlight novel research ideas from these rising stars and their plans to apply this information for the clinical treatment of various malocclusions. This provides an excellent opportunity for attendees to learn about cutting-edge research from the next generation of orthodontic leaders.
4.The symposium is dedicated to interdisciplinary care for patients with craniofacial anomalies such as cleft lip and palate, Obstructive Sleep Apnea, and Class III problems. It features speakers from around the world and showcases the latest advancements in interdisciplinary treatment.
5.The symposium is breaking new ground in the traditional concepts of biomechanics and anchorage, as well as delving into the depths of 3D technology in radiology, intraoral scanning, and the fabrication of clear aligners.
Registration is now open at the official IOF website
The symposium offers both in-person and online attendance options. The online live sessions are free and open to the public, ensuring accessibility to those unable to attend in person in Hong Kong. Attendees who prefer to participate in-person will need to secure a ticket, but it is well worth it for the chance to network with fellow professionals and immerse themselves in the latest advances in clinical orthodontics. This is an opportunity not to be missed for anyone looking to expand their knowledge and take their orthodontic skills to the next level.
About the IOF International Orthodontic Symposium
The IOF International Orthodontic Symposium is the premier annual event organized by IOF, featuring experts and rising stars in the field of orthodontics from around the world. The inaugural symposium held in 2022 was very well received, with over 160,000 views from more than 80 countries or regions. With 15 experts delivering lectures, the symposium provided a valuable platform for the exchange of innovative ideas and research findings in orthodontics.
IOF hopes to inspire orthodontic clinicians to approach treatment from a more comprehensive perspective, putting the needs of the patient first. Experts from various disciplines will discuss their roles in providing comprehensive treatment, highlighting the importance of collaboration and interaction.
To learn more about the symposium, please visit www.iofglobal.org/ios
Company: International Orthodontics Foundation Limited
Contact Person: Brandon Kan
Email: brandon.kan@iofglobal.org
Website: https://www.iofglobal.org
Telephone: +862155821505
City: HongKong
Address: Unit 1603, 16/F Tower 1, Silvercord 30 Canton RD TST KL, HongKong
Disclaimer:
This press release may contain forward-looking statements. Forward-looking statements describe future expectations, plans, results, or strategies (including product offerings, regulatory plans and business plans) and may change without notice. You are cautioned that such statements are subject to a multitude of risks and uncertainties that could cause future circumstances, events, or results to differ materially from those projected in the forward-looking statements, including the risks that actual results may differ materially from those projected in the forward-looking statements.
Source published by Submit Press Release >> 2023 IOF International Orthodontic Symposium: Register for Cutting-Edge Insights & Innovations